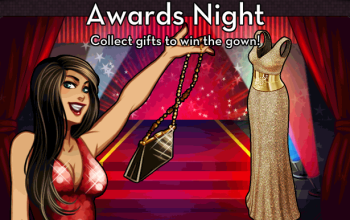 The
Awards Night
event was a gifting mission held during February of 2014. The players were to collect 9 different items around the Oscar's over the course of 9 days. The reward for completing this event is the
Gold Corset Gown
.
Hollywood Style
- Plan an Outfit for the red carpet while sitting on a couch
- Practice Posing for the cameras on the red carpet using a mirror
- Send a photo of your outfit to Veronica using a computer
Setting the Stage
- Have the Wardrobe placed in your apartment
Celebrity Connections
- Collect all the gifts to receive your Gold Corset Gown by using your wardrobe
Day 1


22 February

Day 2


23 February

Day 3


24 February

Day 4


25 February

Day 5


26 February

Leading Role
x 24

Nomination
x 21

Glittering Necklace
x 27

Red Bow Tie
x 30

Red Carpet
x 12
Day 6


27 February

Day 7


28 February

Day 8


1 March

Day 9


2 March

Paparazzi
x 24

Winner's Envelope
x 18

Golden Award
x 27

Acceptance Speech
x 21
Ad blocker interference detected!
Wikia is a free-to-use site that makes money from advertising. We have a modified experience for viewers using ad blockers

Wikia is not accessible if you've made further modifications. Remove the custom ad blocker rule(s) and the page will load as expected.