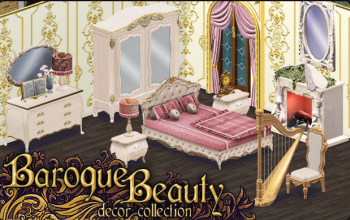 The
Baroque Beauty Decor Collection
is a
Decor Collection
that ran in March of 2015. It consisted for nine decor items and a free gift.
The complete collection as previously deal cost 169 Gold.
Buying the items separately costs 188 Gold, 9,000 Glam and 11,800 Coins.
Collection
Edit
Decor
Price

Baroque Bed

475 Points
Rest: 4 stars
Bed

57 Gold

Baroque Fireplace

460 Points
Decor Items

45 Gold

Gold Harp

450 Points
Fun+Music: 4 stars
Hobby

49 Gold

Baroque Dresser

200 Points
Dresser

25 Gold

Baroque Curtains

180 Points
Curtains

12 Gold

Baroque Wardrobe

175 Points
Cabinet

7,000 Glam

Baroque Side Table

130 Points
Dresser

6,800 Coins

Baroque Clock

100 Points
Decor Items

2,000 Glam

Pink Ruffle Lamp

80 Points
Lamp

5,000 Coins

Baroque Walls

30 Points
Wallpaper

Free Gift
Ad blocker interference detected!
Wikia is a free-to-use site that makes money from advertising. We have a modified experience for viewers using ad blockers

Wikia is not accessible if you've made further modifications. Remove the custom ad blocker rule(s) and the page will load as expected.