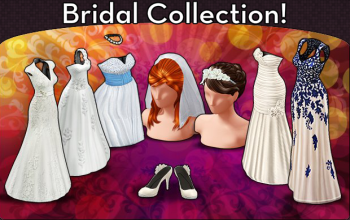 The Bridal Collection was available in February of 2015 and 2014. It consists five dresses, wedding shoes and two hairstyles.
The complete collection as previously deal costs 209 Gold. (2014: 239)
Buying the items separately (as daily deal) costs 246 Gold, 9,859 Glam and 35,037 Coins.
Collection
Edit
Items are listed in the order that they were released.
Style
Price

Rosaline Gown

14 February 2015 / 23 February 2014

Outfits - 715 Points

59 Gold
(2014: 64)

Jeweled Flower Updo

12 February 2015 / 22 February 2014

Hair - 375 Points

4,567 Glam
(2014: 5,310)

Elizabeth Gown

7 February 2015 / 21 February 2014

Outfits - 815 Points

77 Gold
(2014: 89)

Classic Veil

10 February 2015 / 20 February 2014

Hair - 450 Points

43 Gold
(2014: 49)

Elopement Dress

8 February 2015 / 19 February 2014

Outfits - 692 Points

5,292 Glam
(2014: 6,300)

Maid of Honor Gown

11 February 2015 / 18 February 2014

Outfits - 590 Points

25,092 Coins
(2014: 28,900)

Wedding Shoes

9 February 2015 / 17 February 2014

Shoes - 340 Points

9,945 Coins
(2014: 11,050)

Satine Gown

13 February 2015 / 16 February 2014

Outfits - 740 Points

67 Gold
(2014: 78)