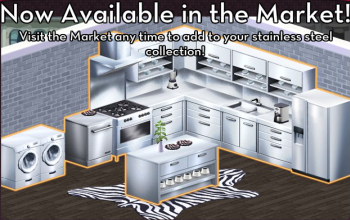 The
Brushed Steel Decor Collection
is a
Decor Collection
that ran in July of 2014. It consisted of seven decor items which you can buy in decor tab.
The complete collection as previously deal costs 145 Gold.
Buying the items separately costs .. Gold, .. Glam and .. Coins.
Collection
Edit
Decor
Price

Brushed Steel Dishwasher

270 Points
Hygiene: 3 stars
Sink

40 Gold

Brushed Steel Sink

215 Points
Hygiene: 4 stars
Sink

32 Gold

Brushed Steel Fridge

183 Points
Health+Safety: 3 stars
Fridge

20,000 Coins

Brushed Steel Island

177 Points
Table

18 Gold

Brushed Steel Stove

174 Points
Health+Cooking: 3 stars
Stove

2,600 Glam

Brushed Steel Corner Cabinet

168 Points
Cabinet

2,100 Glams

Brushed Steel Cabinets

134 Points
Cabinet

8,000 Coins
Ad blocker interference detected!
Wikia is a free-to-use site that makes money from advertising. We have a modified experience for viewers using ad blockers

Wikia is not accessible if you've made further modifications. Remove the custom ad blocker rule(s) and the page will load as expected.