Every City Girl needs someplace to call home and that's where Apartments come in.
Moving In
Edit
When you first move to the city, Jenna provides you with your starter apartment - Shady Heights, which is small and cramped. It is up to you to advance through the game and unlock the requirements necessary to move into the larger apartments.
You must unlock all previous apartments in order to be able to purchase other ones; there is currently no way to skip over apartments you have no interest in.
Second Apartment
Edit
Since 30 July 2015 you can use two apartments at the same time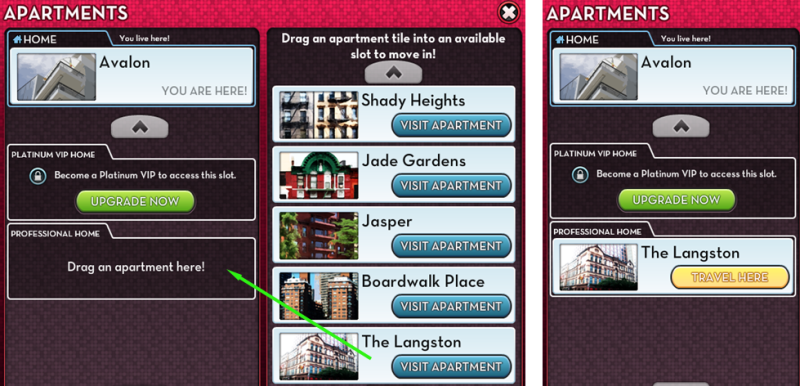 Available Apartments
Edit
Currently, there are 9 different apartments to choose from, each with their own perks and challenges.

500 sqft/46,45 sqm.
0 points

900 sqft/83,61 sqm.
250 points

1,200 sqft/111,48 sqm.
500 points

1,500 sqft./139,35 sqm
750 points

1,900 sqft./176,5 sqm
1,000 points

? sqft.
4,500 points

? sqft.
7,000 points

? sqft.
8,000 points

? sqft.
10,000 points
Pages in category "Apartments"
Ad blocker interference detected!
Wikia is a free-to-use site that makes money from advertising. We have a modified experience for viewers using ad blockers

Wikia is not accessible if you've made further modifications. Remove the custom ad blocker rule(s) and the page will load as expected.