Age

early to mid 20's

Occupation

Various

Residence

New York City

Family

Auntie Kate, parents (not seen)

Quests & Storylines

Hosted

Unknown

Featured

N/A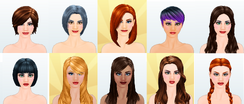 City Girl is the player character in Disney City Girl, otherwise known as you, the player.
Appearance
Edit
In promotional material and career art, she is depicted as having long brown hair and green eyes. However, since the character is customizable by each individual player, City Girl technically doesn't have a defined appearance.
City Girl moved to New York City on the insistence of her childhood best friend Jenna to have more opportunities to pursue her dream career and dream apartment. She is said to have potential to do practically anything, as seen in one Cafe Quest where she gives a small recital with few preparation and Jenna praises how she's talented at everything.
In Ditch Your Resolutions Day, Jenna comments that she's gotten much less shy since leaving the farm, suggesting that she and City Girl come from a country background.
Ad blocker interference detected!
Wikia is a free-to-use site that makes money from advertising. We have a modified experience for viewers using ad blockers

Wikia is not accessible if you've made further modifications. Remove the custom ad blocker rule(s) and the page will load as expected.