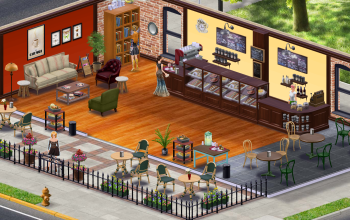 Coffee Shop missions are reoccurring daily missions that always take place in The Grounds Cafe. 
Everyday, you are assigned with completing three tasks for a different character. Quests/tasks may be repeated. These tasks vary and may include:
Talking to Zoey the Barista
Talking to fellow coffee shop visitors
Searching furniture for items
Reading the bulletin board for events
Etc.
Upon completing your tasks, you win a Cafe Raffle Token which you may use to spin the Cafe Raffle Spinner Wheel that includes multiple prizes. 
There are three slots each for gold (1, 5 and 15), glam (40, 250, 1000) and coins (500 and 1000). The remaining slots contain clothing, furniture and wallpaper or floor tiles. While clothing items may be won only once, furniture, wallpaper and floor tiles remain on the spin so it is possible to end up with high quantities of Cafe Raffle furniture prizes, and many people have run into this problem many times.