Started On

20 October 2014

Ended On

30 October 2014

Hosted By

Jenna

Crafting Station

Witch's Cauldron
The
Creepy Costumes
mission took place in October of 2014. It started on October 20 and ran for 10 days.
The Final Prize (Busy Bee Costume) was also available in October 2015 in the Private Reserve Store. The Bee Antennae (hair) and the Bee Thigh Highs were also available as a daily deal in October 27th 2015.
Storyline
Edit
The mission starts off with Jenna ...
Crafting Station
Edit
The crafting station for this event is a Witch's Cauldron. It can craft the following four items:


Ingredients
Crafting Time
Required
Bonus

Mysterious Vapors

none
3 mins
16
N/A

Buttery Glop

Eye of Newt x1

Mysterious Vapors x1

Item: 15 mins

Total: 18 mins

8
N/A

Rainbow Dye

Ruby Sand x2
9 hrs
8
Bee Thigh Highs

Fur

Buttery Glop x1

Rainbow Dye x1

Item: 12 hrs

Total: 21 hrs 18 mins

3
N/A
The Ruby Sand and the Eye of Newt are requestable gift items.
Step 1: Prize Posession
Do a Victory Dance at a stereo to celebrate your win
Put on an outfit worth at least 80 Everyday style
Rendezvous with Jenna by sitting at an outdoor chair at the coffee shop
Step 2: A Bumbling Barista
Plan a new costume by checking a magazine rack for reference photos
Place the crafting station in your apartment
Craft Mysterious Vapors x1
Total Crafting Time: 3 mins
Step 3: Through The Trapdoor
Use an outdoor chair at The Grounds to call Veronica to coordinate plans
Leave The Grounds and use a phone to call Zoey to distract her
Craft Buttery Glop x1
Total Crafting Time: 18 mins
Step 4: Poetry Problems
Choose a subject for your poem by daydreaming using an armchair the the cafe 2 times
Write spooky poem using a tablet while sitting on the couch at The Grounds
Craft Mysterious Vapors x2
Total Crafting Time: 6 mins
Step 5: Crazy For Coffee
Summon Jenna wtih to coffee while sitting at an outdoor chair at The Grounds
Craft Rainbow Dye x3
Total Crafting Time: 1 day 3 hrs
Step 6: Costume Pro
Put on an outfit worth 200 Costume points
Make final adjustments to your outfit to remove any wrinkles using a mirror
Craft Mysterious Vapors x5
Total Crafting Time: 15 mins
Step 7: Sweeping The Competition
Put on an outfit worth 300 Costume points
Use a treadmill to jog in costume to test how comfortable yiur outfit is. Don't get hurt!
Craft Buttery Glops x4
Total Crafting Time: 1 hrs 12 mins
Step 8: Absentee Ballots
Search for missing votes at the cafe bookcase 2 times
Search for missing votes at the cafe's bussing station 2 times
Craft Rainbow Dyes x2
Total Crafting Time: 18 hrs
Step 9: Poory Slam
Use a mirror to rehearse poem 2 times
Sign up for Open Mic by speaking with Zoey
Craft Furs x3
Total Crafting Time: 2 days 15 hrs 54 mins
Step 10: A Very Busy Bee
Pull out your completed costume from the depths of the Witch Cauldron by clicking it
Total Mission Crafting Time: 4 day 14 hrs 48 mins
The reward for completing the Creepy Costumes mission on time is the Busy Bee Costume and the Bee Antennae.
Bonus Prize
Edit
While crafting a Rainbow Dye, there is a chance of receiving the Bee Thigh Highs.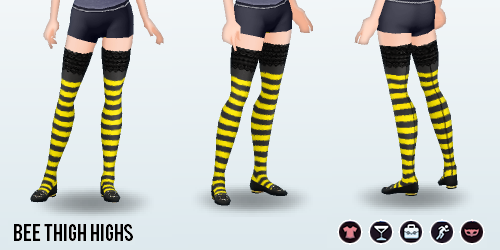 Ad blocker interference detected!
Wikia is a free-to-use site that makes money from advertising. We have a modified experience for viewers using ad blockers

Wikia is not accessible if you've made further modifications. Remove the custom ad blocker rule(s) and the page will load as expected.