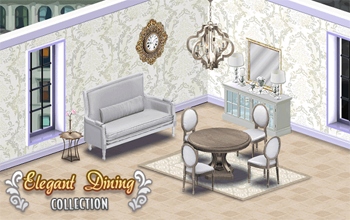 The Elegant Dining Decor Collection is a Decor Collection that ran in June of 2017. It consisted for eight decor items and a free gift.
The complete collection as previously deal cost 127 Gold.
Buying the items separately costs 104 Gold, 16,900 Glam and 23,000 Coins.
Collection
Edit
Decor
Price

Elegant Dining Dresser

410 Points
Hygiene + Investigation: 4 stars
Sink

42 Gold

Dessert Little Sofa

360 Points
Rest: 3 stars
Couch

4,900 Glam

Round Ornate Dining Table

300 Points
Table

16,000 Coins

Aged Silver Chandelier

260 Points
Lamp

27 Gold

Round Countryside Chair

210 Points
Rest: 3 stars
Chair

3,000 Glam

Golden Side Table

190 Points
Table

20 Gold

Ornate Wall Clock

140 Points
Hygiene + Investigation: 4 stars
Decor Items

15 Gold

Monochromatic Rug

130 Points
Rug

7,000 Coins

Silver and Gold Wallpaper

40 Points
Wallpaper

Free Gift
Ad blocker interference detected!
Wikia is a free-to-use site that makes money from advertising. We have a modified experience for viewers using ad blockers

Wikia is not accessible if you've made further modifications. Remove the custom ad blocker rule(s) and the page will load as expected.