Started On

5 September 2014

Ended On

15 September 2014

Hosted By

Edie O

Crafting Station

Crafting Box
The
Fashion Week 2014
mission took place in September of 2014. It started on September 5 and ran for 10 days.
Storyline
Edit
The mission starts off with Edie O ...
Crafting Station
Edit
The crafting station for this event is a Crafting Box. It can craft the following four items:


Ingredients
Crafting Time
Required
Bonus

Fringe

none
10 mins
8
N/A

Felt

Wool x2
4 hrs
11
N/A

Hat Design

Felt x1

Item: 10 hrs

Total: 14 hrs

5
Strappy Black High Heels

Knitting Pattern

Wool x2

Felt x1

Inspiration x1

Item: 6 hrs

Total: 10 hrs

1
N/A
The Wool , the Shears, the Thimbles and the Inspiration are requestable gift items.
Step 1: Fall Fiasco
Use the front door to deliver Soy Chai Latte for Edie O
Use the phone to call photographer
Use the computerto print color palette
Step 2: The Design Palace
Take call using the phone 3 times
Place the crafting station in your apartment
Craft Fringe x1
Total Crafting Time: 10 mins
Step 3: Fringe Is In
Get 2 shears from your friends
Craft Fringe x2
Watch Fall FashionCoverage from last year using your tv
Total Crafting Time: 20 mins
Step 4: Felted Plans
Ask 3 friends for felting tips by visiting their apartment
Work on felt 2 times using a kitchen sink
Craft Felt x1
Total Crafting Time: 4 hrs
Step 5: Miffed Minions
Call Jenna to check on her
Read Classic Hat History using your bookshelf 2 times
Craft Hat Designs x2
Total Crafting Time: 1 day 4 hrs
Step 6: Redhead In The House
Relax muscles in the bathtub
Catch up on sleep using a bed
Craft Fringe x5
Total Crafting Time: 50 mins
Step 7: Edie O.Pologies
Put on an outfit 200 Nightlife style
Ask 2 friends Interested in modeling?
Craft Felt x4
Total Crafting Time: 16 hrs
Step 8: Emotionally Knitted Up
Brainstorm names 2 times on the couch
Test names on patrons in the coffee shop
Craft Knitting Pattern x1
Total Crafting Time: 10 hrs
Step 9: Hat's A Nightmare
Have Creativity level 8 by doing creativity skill actions
Have 3 Thimbles by asking your friends (or doing sewing activities)
Craft Hat Design x3
Total Crafting Time: 1 day 18 hrs
Step 10: Fringe, Felt, Fashion!
Gussy up using a mirror
Put on an outfit 250 Professional style
Go to Fashion Show using the front door
Total Mission Crafting Time: 4 days 5 hrs 20 mins
The reward for completing the Fashion Week 2014 mission on time is the Red High Low Gown.
Bonus Prize
Edit
While crafting a Hat Design, there is a chance of receiving the Strappy Black High Heels.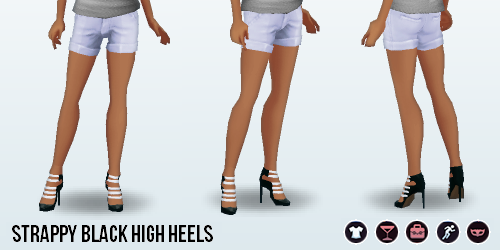 Ad blocker interference detected!
Wikia is a free-to-use site that makes money from advertising. We have a modified experience for viewers using ad blockers

Wikia is not accessible if you've made further modifications. Remove the custom ad blocker rule(s) and the page will load as expected.