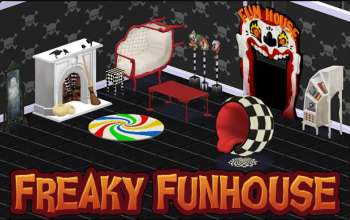 The Freaky Funhouse Decor Collection is a Decor Collection that ran in October of 2015. It consisted of a free gift and nine decor items which you can buy in decor tab.
The complete collection as previously deal costs 119 Gold.
Buying the items separately costs 125 Gold, 9,500 Glam and 9,000 Coins.
Collection
Edit
Decor
Price

Witch Leg Fireplace

400 Points
Decor Items

40 Gold

Contortionist Couch

310 Points
Rest: 4 stars
Couch

30 Gold

Freaky Mouth Chair

225 Points
Rest: 4 stars
Chair

6,000 Glam

Contorted Bookshelf

199 Points
Fun + Knowledge: 4 stars
Bookcase

22 Gold

Funhouse Sign

185 Points
Decor Items

18 Gold

Bloody Coffee Table

150 Points
Table

3,500 Glam

Funhouse Tunnel Rug

150 Points
Rug

4,000 Coins

Haunted Mirror

150 Points
Hygiene + Investigation: 4 stars
Mirror

15 Gold

Harlequin End Table

115 Points
Table

5,000 Coins

Cross and Skullbones Wallpaper

20 Points
Wallpaper

Free Gift
Ad blocker interference detected!
Wikia is a free-to-use site that makes money from advertising. We have a modified experience for viewers using ad blockers

Wikia is not accessible if you've made further modifications. Remove the custom ad blocker rule(s) and the page will load as expected.