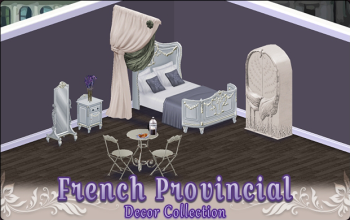 The
French Provincial Decor Collection
is a
Decor Collection
that ran in May of 2016. It consisted of ten decor items which you can buy in decor tab.
The complete collection as previously deal costs 134 Gold.
Buying the items separately costs 149 Gold, 10,400 Glam and 5,800 Coins.
Collection
Edit
Decor
Price

Provincial Bed

440 Points
Rest: 4 stars
Bed

44 Gold

Crane Wardrobe

385 Points
Cabinet

38 Gold

French Dressing Mirror

268 Points
Hygiene + Observation: 3 stars
Mirror

26 Gold

French Bistro Table

255 Points
Table

24 Gold

French Bistro Chair

170 Points
Rest: 3 stars
Chair

3,000 Glam

Draped Curtain

165 Points
Curtains

17 Gold

Provincial End Table

160 Points
Dresser

3,400 Glam

French Press

93 Points
Decor Items

3,800 Coins

French Lavender

84 Points
Decor Items

1,000 Glam

Croissant

60 Points
Decor Items

2,000 Coins

French Lavender Wallpaper

29 Points
Wallpaper

Free Gift
Ad blocker interference detected!
Wikia is a free-to-use site that makes money from advertising. We have a modified experience for viewers using ad blockers

Wikia is not accessible if you've made further modifications. Remove the custom ad blocker rule(s) and the page will load as expected.