Started On

8 August 2014

Ended On

18 August 2014

Hosted By

Jenna

Crafting Station

Gaming Table
The Geek Week mission took place in August of 2014. It started on August 8 and ran for 10 days.
Storyline
Edit
The mission starts off with Jenna ...
Crafting Station
Edit
The crafting station for this event is a Gaming Table. It can craft the following four items:


Ingredients
Crafting Time
Required
Bonus

Gaming Cards

none
3 mins
17
N/A

Gaming Miniatures

Gaming Cards x3

Item: 20 mins

Total: 29 mins

3
N/A

Dice Bag

Dice x2
8 hrs
7
N/A

Game Rulebook

Gaming Miniatures x1

Dice Bag x1

Item: 12 hrs

Total: 20 hrs 29 mins

4
Liz Hair
The Dice is a requestable gift item.
Step 1: Geek Week
Sit down and try to remember any celebrations going on using a couch
Search upcoming local events using a computer
Call Zoey using a phone
Step 2: Nerdy Know-How
Look up famous geeks using your computer
Place the crafting station in your apartment
Craft Gaming Cards x1
Total Crafting Time: 3 mins
Step 3: A Light Meal
Grab a potato from the refrigerator to use in your potato battery project
Grab tiny lightbulb from a refrigerator to light up with your potato battery
Craft Gaming Miniatures x1
Total Crafting Time: 29 mins
Step 4: Collection Affection
Have a magazine rack in your apartment
Read comic book 2 times using a magazine rack
Craft Gaming Cards x2
Total Crafting Time: 6 mins
Step 5: Ms. Write
Watch Superhero movie using a television
Write Superhero bio 2 times using the computer
Craft Dice Bag x1
Total Crafting Time: 8 hrs
Step 6: Building Character
Watch tabletop gaming videos using the computer
Grab gaming snacks using a refrigerator
Craft Gaming Cards x5
Total Crafting Time: 15 mins
Step 7: A Geek In Need
Call Zoey using a phone and listen to her walk you through how to VPN into the web server
Using a computer, configure music server for [Zoey]]
Craft Game Rulebook x1
Total Crafting Time: 20 hrs 29 mins
Step 8: A Good Cos
Browse last year's Con pics using the computer
Read comic book using a magazine rack
Craft Dice Bag x4
Total Crafting Time: 1 day 8 hrs
Step 9: Misplaced Manual
Check bulletin board at The Grounds to see if anyone has posted about finding the book
Craft Game Rulebook x3
Talk to Zoey and let her know you have a replacement rulebook
Total Crafting Time: 44 hrs 29 mins
Step 10: Heroic Hangout
Put on an outfit worth 250 Costume style
Fix costume makeup using a mirror
Head to the Convention with the girls using the front door
Total Mission Crafting Time: 3 days 9 hrs 51 mins
The reward for completing the Geek Week mission on time is the Danielle Dress.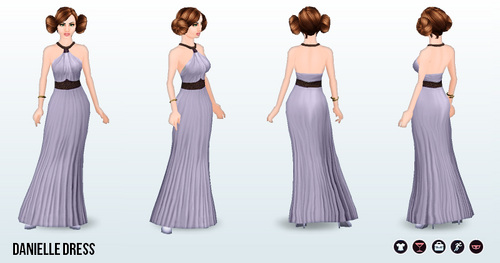 Bonus Prize
Edit
While crafting a Game Rulebook, there is a chance of receiving the Liz Hair.

Ad blocker interference detected!
Wikia is a free-to-use site that makes money from advertising. We have a modified experience for viewers using ad blockers

Wikia is not accessible if you've made further modifications. Remove the custom ad blocker rule(s) and the page will load as expected.