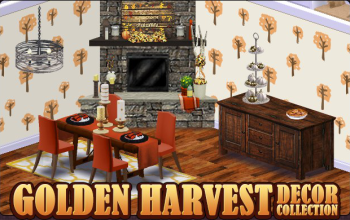 The
Golden Harvest Decor Collection
is a
Decor Collection
that ran in November of 2015. It consisted of ten decor items which you can buy in decor tab and two free gifts.
The complete collection as previously deal costs 139 Gold.
Buying the items separately costs 150 Gold, 6,600 Glam and 11,850 Coins.
Collection
Edit
Decor
Price

Harvest Fireplace

460 Points
Decor Items

45 Gold

Dining Buffet Table

355 Points
Cabinet

36 Gold

Harvest Table

315 Points
Table

30 Gold

Wired Chandelier

255 Points
Lamp

23 Gold

Trellis Rug

248 Points
Rug

3,700 Glam

Harvest Chair

165 Points
Rest: 3 stars
Chair

2,900 Glam

Antique Pumpkin Stand

148 Points
Decor Items

16 Gold

Golden Pillar Candles

104 Points
Decor Items

5,100 Coins

Pumpkin Pie

75 Points
Decor Items

3,800 Coins

Thanksgiving Place Setting

62 Points
Decor Items

2,950 Coins

Little Tree Wallpaper

24 Points
Wallpaper

Free Gift

Reclaimed Wood Flooring

21 Points
Floor

Free Gift
Ad blocker interference detected!
Wikia is a free-to-use site that makes money from advertising. We have a modified experience for viewers using ad blockers

Wikia is not accessible if you've made further modifications. Remove the custom ad blocker rule(s) and the page will load as expected.