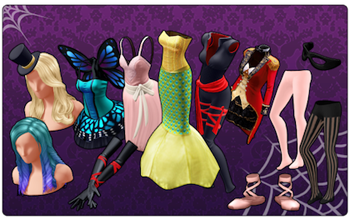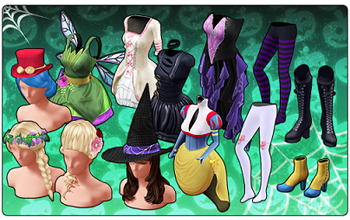 The
Halloween Collection
of 2013 was the first collection completely dedicated to Halloween costumes. There were two parts to this collection, each one available for two weeks. Combined, there were a total of 25 different pieces available easily making it the largest collection to date.
This collection corresponded with the Spooky Cafe 2013 missions.
There were nineteen wardrobe pieces in total, including several pairs of shoes, tights and one pair of gloves.
Style
Price

Ballerina Costume

October 2013

395 Points

???

Goth Girl Costume

October 2013

640 Points

???

Ninja Jumpsuit

October 2013

675 Points

???
Style
Price

Goth Boots

October 2013

200 Points

12,000 Coins

Ballerina Shoes

October 2013

225 Points

2,500 Glam

Ringmistress Tights

October 2013

203 Points

4,000 Coins

Antoinette Stockings

October 2013

180 Points

2,500 Coins

Witch Tights

October 2013

110 Points

4,000 Coins

Ballerina Tights

October 2013

101 Points

1,900 Coins
Hairstyles
Edit
Style
Price

Witch Hat

October 2013

408 Points

???

Mermaid Hair

October 2013

430 Points

98 Gold

Forest Fairy Crown

October 2013

340 Points

68 Gold