Started On

6 October 2014

Ended On

16 October 2014

Hosted By

Zoey

Crafting Station

Pumpkin Carving Table
The
Halloween Happenings
mission took place in October of 2014. It started on October 6 and ran for 10 days.
Storyline
Edit
The mission starts off with Zoey ...
Crafting Station
Edit
The crafting station for this event is a Pumpkin Carving Table. It can craft the following four items:


Ingredients
Crafting Time
Required
Bonus

Candy Corn

none
3 mins
12
N/A

Pumpkin Goop

Pumpkin x1
12 mins
17
N/A

Perfect Pumpkin Pie

Pumpkin Goop x1

Item: 8 hrs

Total: 8 hrs 12 mins

7
Golden Halo

Pumpkin Latte

Candy Corn x1

Pumpkin Goop x1

Item: 4 hrs

Total: 4 hrs 15 mins

6
N/A
The Pumpkin is a requestable gift item.
Step 1: Would You Care To Scare?
Go pumpkin picking using your front door
Get a pumpkin while pumpkin picking or by asking friends
Go to the coffee shop and ask the barista How can I help?
Step 2: Haunted Housekeeping
Place the crafting station in your apartment
Craft Candy Corn x1
Check bussing tray at the coffee shop 2 times for any cracked mugs or dishes that need to be thrown out
Total Crafting Time: 3 mins
Step 3: Bogus Bugs And Fake Snakes
Hide fake snakes in a couch in your apartment
Craft Pumpkin Goop x1
Hide fake flies in a refrigerator
Total Crafting Time: 12 mins
Step 4: V's Vermin Aversion
Remove fake snakes from the couch in your apartment so that Veronica doesn't freak out again
Craft Pumpkin Latte x2
Tell V it's okay to come back in using your front door
Total Crafting Time: 8 hrs 30 mins
Step 5: Sugar Rush
Download Candy Game on your tablet while sitting on the couch at the coffee shop
Craft Candy Corn x5
Go to the coffee shop and tell Zoey Here you go!
Total Crafting Time: 15 mins
Step 6: A Plea For Pumpkins
Call 2 friends using a phone to find out who's going pumpkin picking
Craft Pumpkin Goop x3
Rinse goop off your hands at a sink
Total Crafting Time: 36 mins
Step 7: Goop Soup
Have Cooking level 5
Prepare Goop Soup at an oven
Craft Pumpkin Latte x4
Total Crafting Time: 17 hrs
Step 8: A Cry For Pie
Have Cooking level 8
Craft Perfect Pumpkin Pies x4
Go to the coffee shop and tell Zoey "Here you go!"
Total Crafting Time: 1 day 8 hrs 48 mins
Step 9: Piling On Pies
Visit 3 friends and ask if anyone else wants pie?
Craft Perfect Pumpkin Pies x3
Invite friends over using a phone so everyone can enjoy the pumpkin pies
Total Crafting Time: 1 day 36 mins
Step 10: Angelic Assistance
Refill dispensers at 3 indoor tables at the coffee shop
Take a brake from refilling napkin dispensers to play Candy Game on your tablet at the coffee shop couch
Ask Zoey if she can beat tricky level in the Candy Game for you at the coffee shop
Total Mission Crafting Time: 3 days 12 hrs
The reward for completing the Halloween Happenings mission on time is the Angel Costume.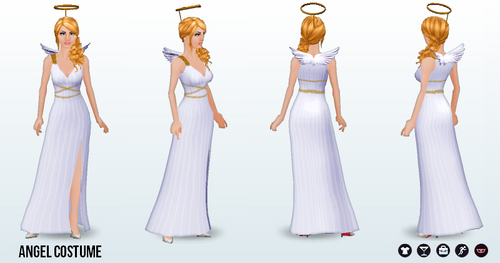 Bonus Prize
Edit
While crafting a Perfect Pumpkin Pie, there is a chance of receiving the Golden Halo.

Ad blocker interference detected!
Wikia is a free-to-use site that makes money from advertising. We have a modified experience for viewers using ad blockers

Wikia is not accessible if you've made further modifications. Remove the custom ad blocker rule(s) and the page will load as expected.