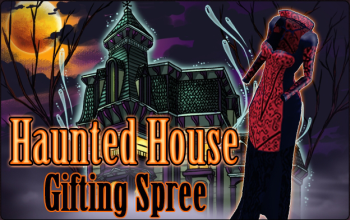 The Haunted House Gifting Spree event was a gifting mission held during October of 2014, starting on the 18th of October and was the 9th gifting mission of the year. Players were to collect 10 different items over the span of 10 days. The reward for completing this event is the Vampire Gown.
High Stakes
- Put on an outfit worth 95 Everyday style
- Look up ideas for costumes using your computer
- Go to coffee with Claude using your front door
Bloodthirsty Critics
- Have the Wardrobe placed in your apartment
Fang-tastic Idea
- Collect all the gifts using your wardrobe to finish your Vampire Gown
Day 1


18 October

Day 2


19 October

Day 3


20 October

Day 4


21 October

Day 5


22 October

Spiderweb
x7

Scream
x9

Strobe Light
x6

Coffin
x8

Glowing Eyes
x4
Day 6


23 October

Day 7


24 October

Day 8


25 October

Day 9


26 October

Day 10


27 October

Thick Fog
x6

Creepy Clown
x7

Whisper
x10

Ghost
x5

Gravestone
x8
The reward for completing the Haunted House Gifting Spree mission is the Vampire Gown.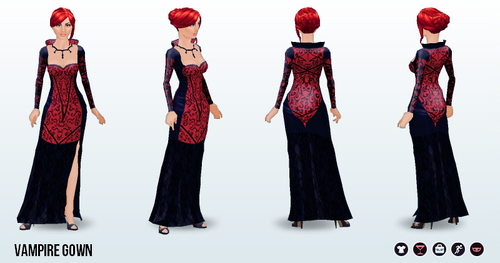 Ad blocker interference detected!
Wikia is a free-to-use site that makes money from advertising. We have a modified experience for viewers using ad blockers

Wikia is not accessible if you've made further modifications. Remove the custom ad blocker rule(s) and the page will load as expected.