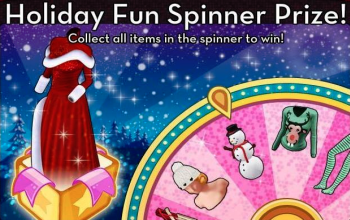 The Holiday Fun Spinner is a Spinner wheel that ran in December of 2013. It consisted of wardrobe and decor items with a holiday theme.
The final prize was also available in December 2015 in the Private Reserve Store.
Style
Price

Ice Skating Hat

December 2013

? Points

8 Gold

Ugly Christmas Sweater

December 2013

213 Points

8 Gold

Ice Skating Outfit

December 2013

495 Points

8 Gold

Green Striped Tights

December 2013

119 Points

8 Gold
Decor
Price

Sleigh Bed

December 2013

330 Points
Bed

8 Gold

Snowman

December 2013

112 Points
Decor Items

8 Gold

Sled

December 2013

95 Points
Decor Items

8 Gold
Bonus Prize
Edit
If one collects all 8 prizes, they unlock the bonus prize: The Holiday Gown.
Ad blocker interference detected!
Wikia is a free-to-use site that makes money from advertising. We have a modified experience for viewers using ad blockers

Wikia is not accessible if you've made further modifications. Remove the custom ad blocker rule(s) and the page will load as expected.