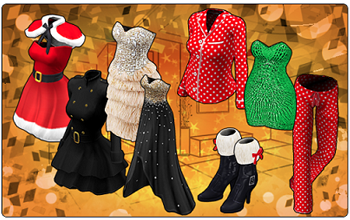 The
Holiday Party Collection
was available in December of 2014 and 2013. It featured a variety of festive pieces, including several party dresses and one pair of short boots.
The complete collection as previously deal costs 179 Gold.
Buying the items separately (as daily deal) costs 192 Gold, 5,622 Glam and 21,006 Coins.
Collection
Edit
Items are listed in the order that they were released.
Style
Price

New Year's Eve Gown

13 December 2014 / 22 December 2013

Outfits - 705 Points

59 Gold

Feathered Cocktail Gown

12 December 2014 / 18 December 2013

Outfits - 670 Points

49 Gold

Holiday Pajama Shirt

11 December 2014 / 19 December 2013

Tops - 200 Points

4,752 Coins

Holiday Pajama Pants

11 December 2014 /19 December 2013

Bottoms - 215 Points

2,295 Glam

Admiral Coat

10 December 2014 / 21 December 2013

Tops - 500 Points

45 Gold

Santa Boots

9 December 2014 / 17 December 2013

Shoes - 240 Points

3,327 Glam

Santa Dress

8 December 2014 / 16 December 2013

Outfits - 570 Points

39 Gold

Green Sequin Mini

7 December 2014 / 20 December 2013

Outfits - 520 Points

16,254 Coins