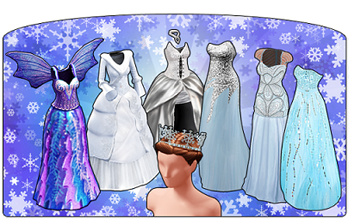 The Ice Princess Clothing Collection was available in January of 2014 and 2015. It consists mostly of wintery themed gowns, as well as one hairstyle and one piece of make up.
This collection did not correspond with any missions but did coincide with the Ice Castle Decor Collection.
The complete collection as previously deal costs 199 Gold.
Buying the items separately (as daily deal) costs 219 Gold, 9,309 Glam and 32,000 Coins.
Collection
Edit
Items are listed in the order that they were released.
Style
Price

Sparkle Gown

11 January 2015 / 10 January 2014

Outfits - 600 Points

24,000 Coins
(2014: 28,880)

Diaphanous Gown

12 January 2015 / 9 January 2014

Outfits - 565 Points

3,375 Glam
(2014: 3,975)

River Fairy Dress

8 January 2015 / 7 January 2014

Outfits - 590 Points

5,934 Glam
(2014: 6,708)

Snowflake Crown

9 January 2015 / 5 January 2014

Hair - 381 Points

36 Gold
(2014: 42)

Snow Queen Gown

13 January 2015 / January 2014

Outfits - 685 Points

51 Gold
(2014: 74)

First Frost Gown

7 January 2015 / January 2014

Outfits - 735 Points

63 Gold
(2014: 89)

Snowflake Makeup

14 January 2015 / January 2014

Accessories - 118 Points

8,000 Coins

Icy Gown

10 January 2015 / 1 January 2014

Outfits - 821 Points

69 Gold
(2014: 102)