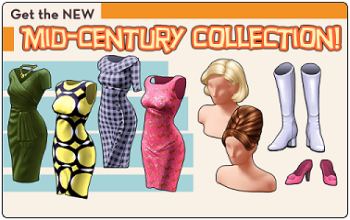 The Mid-Century Collection was available in April of 2013. It consists four dresses, two pair of shoes and two hair styles.
The complete collection as previously deal costs .. Gold.
The Go-Go Boots were also available in February 2017 in the Cafe Raffle Spinner.
Buying the items separately (as daily deal) costs .. Gold, .. Glam and .. Coins.
Style
Price

Joan Hair

April 2013

Hair - .. Points

..

Go-Go Boots

April 2013

Shoes - 350 Points

..
Ad blocker interference detected!
Wikia is a free-to-use site that makes money from advertising. We have a modified experience for viewers using ad blockers

Wikia is not accessible if you've made further modifications. Remove the custom ad blocker rule(s) and the page will load as expected.