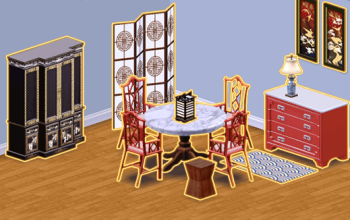 The
New Zen Decor Collection
is a Decor Collection that ran in February of 2014. It consisted of eight decor items matching the Japanese Style which you can buy in decor tab.
The complete collection as previously deal costs 105 Gold.
Buying the items separately costs 77 Gold, 5,800 Glam and 11,000 Coins.
The black lamp was only available with the previously deal.
The Geo End Table come as daily gift from friends.
Collection
Edit
Decor
Price

Ornate Hutch

168 Points

27 Gold

Zen Shoji Screen

151 Points

22 Gold

Zen Dresser

145 Points

16 Gold

Crane Scrolls

80 Points

12 Gold

Waves Rug

55 Points

2,000 Coins

Antique Asian Lamp

87 Points

1,900 Glam

Trellis Chair

110 Points
Rest: 3 stars

9,000 Coins

Marble Table

155 Points

3,900 Glam
Ad blocker interference detected!
Wikia is a free-to-use site that makes money from advertising. We have a modified experience for viewers using ad blockers

Wikia is not accessible if you've made further modifications. Remove the custom ad blocker rule(s) and the page will load as expected.