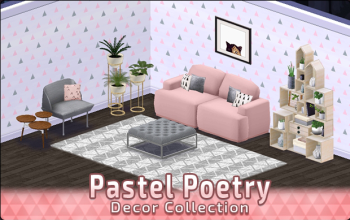 The Pastel Poetry Decor Collection is a Decor Collection that ran in February of 2016. It consisted for eight decor items and a free gift.
The complete collection as previously deal cost 110 Gold.
Buying the items separately costs 112 Gold, 11,900 Glam and 14,100 Coins.
Collection
Edit
Decor
Price

Blushing Sofa

510 Points
Rest: 4 stars
Couch

51 Gold

Casual Contemporary Rug

275 Points
Rug

6,800 Glam

Dove Gray Chair

258 Points
Rest: 4 stars
Chair

25 Gold

Modern Shelf Unit

210 Points
Bookcase

21 Gold

Tufted Coffee Table

185 Points
Table

5,100 Glam

Tom Cat Photo

160 Points
Fun + Art: 3 stars
Painting

8,900 Coins

Modern Planters

155 Points
Decor Items

15 Gold

Stacked End Table

120 Points
Dresser

5,200 Coins

Triangle Wallpaper

28 Points
Wallpaper

Free Gift
Ad blocker interference detected!
Wikia is a free-to-use site that makes money from advertising. We have a modified experience for viewers using ad blockers

Wikia is not accessible if you've made further modifications. Remove the custom ad blocker rule(s) and the page will load as expected.