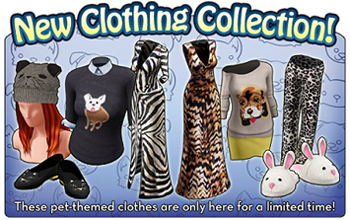 The Pet Collection was available in August of 2013. Around this time, the new Pets feature was released and this collection was released to coincide with that. The Pet Collection was also available in May of 2014.
The complete collection as previously deal costs 109 Gold.
Buying the items separately (as daily deal) costs 102 Gold, 6,160 Glam and 14,400 Coins.
Style
Price

Hound Sweater and Skirt

28 May 2014

Outfits - 289 Points

19 Gold

Cat Flats

27 May 2014 / August 2013

Shoes - 224 Points (2014) / 330 Points (2013)

8,000 Coins

Leopard Capris

26 May 2014 / August 2013

Bottoms - 200 Points

6,400 Coins

Cat Beanie

25 May 2014 / August 2013

Hair - 230 Points

2,880 Glam

Zebra Gown

24 May 2014 / August 2013

Outfits - 470 Points

32 Gold

Bunny Slippers

23 May 2014 / August 2013

Shoes - 300 Points (2014) / 371 Points (2013)

9 Gold

Frenchie Sweater

22 May 2014 / August 2013

Tops - 266 Points (2014) / 298 Points (2013)

3,280 Glam

Tiger Gown

21 May 2014 / August 2013

Outfits - 510 Points

42 Gold