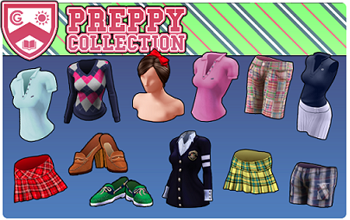 The Preppy Collection was available in May of 2013, in March of 2014 and April of 2017. It had a collegiate, private school vibe.
The complete collection as previously deal costs 113 Gold (2014: 149).
Buying the items separately (as daily deal) costs 121 Gold, 6,440 Glam and 28,960 Coins (2014: 141 Gold, 7,739 Glam and 34,280 Coins).
Collection
Edit
Items are listed in the order that they were released.
Style
Price

Argyle Sweater

20 March 2014 / May 2013

Tops - 330 Points

30 Gold
(2014: 38)

Seafoam Preppy Polo

20 March 2014 / May 2013

Tops - 190 Points

6,480 Coins
(2014: 8,100)

Madras Plaid Shorts

19 March 2014 / May 2013

Bottoms - 160 Points

5,280 Coins
(2014: 6,600)

Green Boat Shoes

18 March 2014 / May 2013

Shoes - 113 Points

1,640 Glam
(2014: 2,049)

Fuschia Preppy Polo

17 March 2014 / May 2013

Tops - 210 Points

6,960 Coins
(2014: 8,700)

Preppy Bermudas

16 March 2014 / May 2013

Bottoms - 185 Points

2,320 Glam
(2014: 2,900)

Loafer Heels

15 March 2014 / May 2013

Shoes - 198 Points

12 Gold

Yellow Schoolgirl Skirt

15 March 2014 / May 2013

Bottoms - 200 Points

2,480 Glam
(2014: 2,790)

Country Club Dress

14 March 2014 / May 2013

Outfits - 365 Points

10,240 Coins
(2014: 10,880)

Blair Hair

14 March 2014 / May 2013

Hair - 295 Points

27 Gold
(2014: 30)

Red Schoolgirl Skirt

13 March 2014 / May 2013

Bottoms - 165 Points

20 Gold
(2014: 25)

College Cardigan

13 March 2014 / May 2013

Tops - 345 Points

32 Gold
(2014: 36)