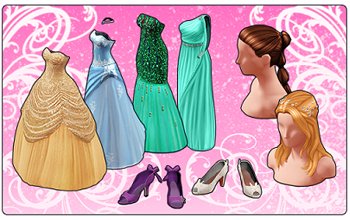 The Princess Collection was available in June of 2015 and December of 2013. It featured a selection of regal gowns and hairstyles. A large quanity of the items in this collection cost Gold.
The complete collection as previously deal costs 219 Gold (2013: 249).
Buying the items separately (as daily deal) costs 211 Gold, 6,740 Glam and 41,920 Coins.
Style
Price

Sultana Gown

10 June 2015 / December 2013

672 Points

64 Gold
(2013: 82)

Ella Gown

7 June 2015 / December 2013

630 Points

56 Gold
(2013: 63)

Isabelle Gown

14 June 2015 / December 2013

738 Points

34,000 Coins
(2013: 95 Gold)

Mermaid Gown

12 June 2015 / December 2013

605 Points

59 Gold
(2013: 32,000 Coins)

Starfish Heels

13 June 2015 / December 2013

224 Points

2,490 Glam
(2013: 2,490)

Diamond Slipper

9 June 2015 / December 2013

199 Points

7,920 Coins
(2013: 7,964)
Hairstyles
Edit
Style
Price

Bubble Ponytail

11 June 2015 / December 2013

320 Points

32 Gold
(2013: 37)

Princess Hair

8 June 2015 / December 2013

298 Points

4,250 Glam
(2013: Gold)