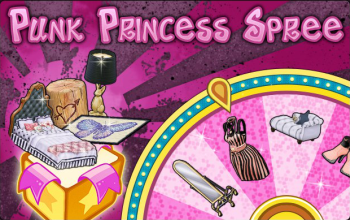 The Punk Princess Spree Spinner is a spinner wheel that ran in August 2015. It consisted for three wardrobe and four decor items and a hairstyle.
Style
Price

Punk Princess Dress

August 2015

Outfits - 560 Points

8 Gold

Studded Purse

August 2015

Purses - 330 Points

8 Gold

Pink Striped Booties

August 2015

Shoes - 200 Points

8 Gold
Style
Price

Pretty Punk Wig

August 2015

Hair - 520 Points

8 Gold
Decor
Price

Striped Chaise

300 Points
Rest: 4 stars
Couch

8 Gold

Pipe Clothes Rack

200 Points
Decor Items

8 Gold

Pipe Mirror

145 Points
Investigation+Hygiene: 3 stars
Mirror

8 Gold

Pom Trim Curtains

120 Points
Curtains

8 Gold

Unicorn Trophy

90 Points
Decor Items

8 Gold

(Replacement)

Pink Phone

75 Points
Networking+Friendship: 1 star
Decor Items

8 Gold

(Replacement)
Bonus Prize
Edit
If one collects all 8 prizes, they unlock the bonus prize Punk Princess Bundle.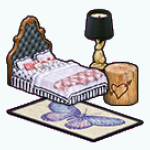 Ad blocker interference detected!
Wikia is a free-to-use site that makes money from advertising. We have a modified experience for viewers using ad blockers

Wikia is not accessible if you've made further modifications. Remove the custom ad blocker rule(s) and the page will load as expected.