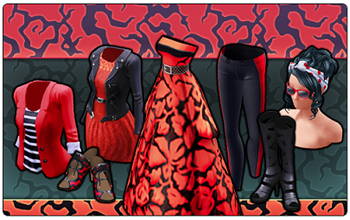 The Red and Black Collection was available in September of 2013 and November 2014. Like it's name suggests, it consisted entirely of red and black items.
The complete collection as previously deal costs 139 Gold.
Buying the items separately (as daily deal) costs 137 Gold, 3,360 Glam and 15,685 Coins.
Style
Price

Monica Dress and Jacket

14 November 2014 / September 2013

Outfits - 411 Points

39 Gold

Cutout Boots

13 November 2014 / September 2013

Shoes - 218 Points

16 Gold

Red Riding Pants

12 November 2014 / September 2013

Bottoms - 175 Points

6,885 Coins

Red Blazer

11 November 2014 / September 2013

Tops - 298 Points

1,920 Glam

Curly Updo

10 November 2014 / September 2013

Hair - 310 Points

34 Gold

Black Cateye Glasses

9 November 2014 / September 2013

Accessories - 263 Points

8,800 Coins

Wavy Zag Heels

8 November 2014 / September 2013

Shoes - 225 Points

1,440 Glam

Red Roses Gown

7 November 2014 / September 2013

Outfits - 712 Points

48 Gold