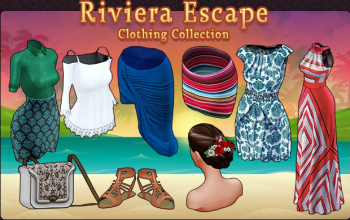 The Riviera Escape Clothing Collection was available in May of 2016. It consists three dresses, two skirts, a top, shoes, purse and a hairstyle.
The complete collection as previously deal costs 214 Gold.
Buying the items separately (as daily deal) costs 220 Gold, 7,620 Glam and 16,200 Coins.
Collection
Edit
Items are listed in the order that they were released.
Style
Price

Paisley Dress

8 May 2016

Outfits - 544 Points

49 Gold

Embroidered Purse

7 May 2016

Purses - 318 Points

25 Gold

Cantina Dress

6 May 2016

Outfits - 702 Points

58 Gold

Excursion Hair

6 May 2016

Hair - 611 Points

48 Gold

Blanket Skirt

5 May 2016

Bottoms - 245 Points

3,200 Glam

Huarache Sandals

4 May 2016

Shoes - 274 Points

9,900 Coins

Salsa Skirt

3 May 2016

Bottoms - 279 Points

4,420 Glam

Market Top

2 May 2016

Tops - 240 Points

6,300 Coins

Riviera Cruise Outfit

1 May 2016

Outfits - 496 Points

40 Gold