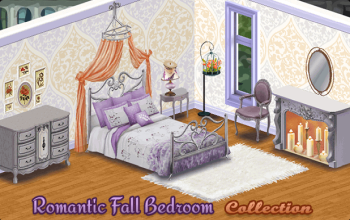 The Romantic Fall Bedroom Decor Collection is a Decor Collection that ran in October of 2017. It consisted for eight decor items and a free gift.
The complete collection as previously deal cost 141 Gold.
Buying the items separately costs 145 Gold, 6,400 Glam and 14,000 Coins.
Collection
Edit
Decor
Price

Volutes Bed

560 Points
Rest: 4 stars
Bed

59 Gold

Romantic Fireplace

540 Points
Hygiene + Charisma: 4 stars
Fireplace

57 Gold

Upholstered Armchair

260 Points
Rest: 3 stars
Chair

3,800 Glam

Wood and Iron Dresser

180 Points
Dresser

2,600 Glam

Half Moon Nightstand

160 Points
Dresser

8,000 Coins

Hanging Bouquet Cage

160 Points
Plants

17 Gold

Assymetrical Table Lamp

120 Points
Lamp

12 Gold

Fall Flowers Frames

110 Points
Fun + Art: 3 stars
Painting

6,000 Coins

Romantic Fall Wallpaper

60 Points
Wallpaper

Free Gift
Ad blocker interference detected!
Wikia is a free-to-use site that makes money from advertising. We have a modified experience for viewers using ad blockers

Wikia is not accessible if you've made further modifications. Remove the custom ad blocker rule(s) and the page will load as expected.