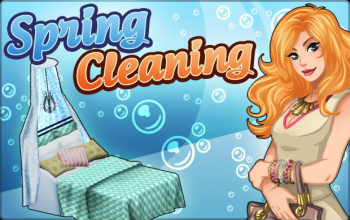 The Spring Cleaning Gifting Spree event was a gifting mission held during March of 2015, starting on the 8th of March and was the 3rd gifting mission of the year. Players were to collect 10 different items over the span of 10 days. The reward for completing this event is the Springtime Bed.
A Clean Sweep
- Put on an outfit worth at least 80 Activewear style
- Sit on a couch and look around to Evaluate What Needs Work
- Use an exercise ball to Stretch Before Cleaning everything
Make Room
- Have the Springtime Bed placed in your apartment
All The THings
- Collect all the gifts to Assemble your Bed by clicking the bed while it's under Construction
Day 1


8 March

Day 2


9 March

Day 3


10 March

Day 4


11 March

Day 5


12 March

Pump-Up Music
x5

Dust Bunnies
x10

Fruit Fly Trap
x7

Long-Handled Mop
x6

Bags of Garbage
x5
Day 6


13 March

Day 7


14 March

Day 8


15 March

Day 9


16 March

Day 10


18 March

Enthusiasm
x7

Charity Donations
x8

Unidentifiable Food
x6

Forgotten Memento
x9

All the Things!
x8
The reward for completing the Spring Cleaning Gifting Spree mission is the Springtime Bed.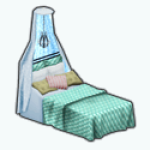 Ad blocker interference detected!
Wikia is a free-to-use site that makes money from advertising. We have a modified experience for viewers using ad blockers

Wikia is not accessible if you've made further modifications. Remove the custom ad blocker rule(s) and the page will load as expected.