Started On

10 March 2014

Ended On

20 March 2014

Hosted By

Veronica

Crafting Station

Lucky Cauldron
The St. Patricks Day mission took place in March of 2014. It started on March 10 and ran for 9 days. This is a recycled mission from 2013, which ran in a imilar time frame.
Storyline
Edit
The mission starts off with Veronica being angry and depressed, and claiming she hates everything green. It turns out she had a huge fight with her boyfriend Esteban, so the girls decide to cheer her up and get her to like St. Patrick's Day again.
Crafting Station
Edit
The crafting station for this event is a Lucky Cauldron. It can craft the following four items:


Ingredients
Crafting Time
Bonus

Charm

none
3 mins
N/A

Prank

Charm x2

Item: 1 hrs, 30 mins

Total: 1 hrs, 36 mins

N/A

Luck

none
15 hrs
N/A

Wish

Charm x4

Luck x1

Item: 6 hrs

Total: 21 hrs, 12 mins

St. Paddy's Hat
Step 1: Veronica's Trauma
Research magical beings at a bookcase x3
Ask friends their favorite quaint shop x3
Use the front door to visit gift shop
Step 2: Charm & Criticism
Place crafting station in apartment
Craft Charm x8
Bake Charm Cookies at an oven x3
Total Crafting Time: 24 mins
Step 3: Prankster
Craft Pranks x4
Post missing leprechaun poster at The Grounds coffee shop
Spread leprechaun sighting rumor by talking to coffee shop patrons x3
Total Crafting Time: 6 hrs, 24 mins
Step 4: Green Grievances
Read "Overcoming Color Boundaries" at a bookshelf
Check out green trends from a magazine rack
Total Crafting Time: 30 hrs
Step 5: To Forgive Is Divine
Craft Wishes x3
Get Esteban to apologize using a phone
Check Veronica's facebook wall for any new statuses using a computer
Total Crafting Time: 2 days, 15 hrs, 45 mins
Step 6: A Parade of Green
Cook Corned Beef and Cabbage by using a stove
Wear at least 200 Costume Style
Join the St. Patrick's Day Parade using your front door
Total Mission Crafting Time: 4 days, 4 hrs, 33 mins
The reward for completing the St. Patrick's Day mission on time is the St. Paddy's Dress.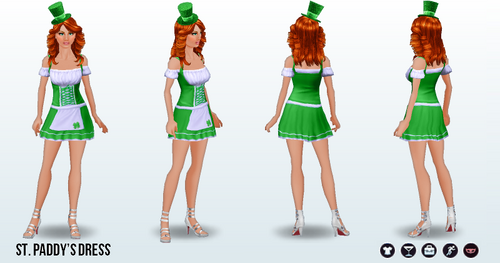 Bonus Prize
Edit
While crafting a Wish, there is a chance of receiving the St. Paddy's Hat.