Started On

10 October 2014

Ended On

20 October 2014

Hosted By

Jenna

Crafting Station

Gothic Sewing Machine
The The Cursed Crafter mission took place in October of 2014. It started on October 10 and ran for 10 days.
Storyline
Edit
The mission starts off with Jenna ...
Crafting Station
Edit
The crafting station for this event is a Gothic Sewing Machine. It can craft the following four items:


Ingredients
Crafting Time
Required
Bonus

Velvet

none
3 mins
22
N/A

Skirt Piece

Velvet x1

Sequins x1

Item: 20 mins

Total: 23 mins

5
N/A

Bodice Piece

Velvet x1

Sheath x1

Item: 10 hrs

Total: 10 hrs 3 mins

9
Cleopatra Hair

Cape

Velvet x1

Skirt Piece x1

Bodice Piece x1

Item: 4 hrs

Total: 14 hrs 29 mins

2
N/A
The Sheath and the Sequins are requestable gift items.
Step 1: Rules And Ghules
Consider how to win the Apartment of Terror Contest while sitting on a couch
Plan a costume to make while looking into a mirror
Talk to Zoey the Barista at the coffe shop an ask for help
Step 2: Sew Amazing
Place the crafting station in your apartment
Set a timer using a computer to see just how powerful this crafter really is
Craft Velvet x1
Total Crafting Time: 3 mins
Step 3: Color Check
Take a photo of the materials at the Gothic Sewing Machine
Send photo to Jenna using a computer
Craft Skirt Piece x1
Total Crafting Time: 23 mins
Step 4: A Costume For Charlie
Visit Jenna's Apartment
Get Charlie's Measurements while visiting Jenna's Apartment
Craft Bodice Piece x1
Total Crafting Time: 10 hrs 3 mins
Step 5: Missing Materials
Call Jenna using a phone to see if you can help her track down her missing crafts
Drink coffee using a coffee maker to prepare yourself for more crafting
Craft Skirt Piece x2
Total Crafting Time: 46 mins
Step 6: A Spooky Source
Get photographic evidence of the Gothic Sewing Machine's origins while using your tablet at the coffee shop's couch
Craft Bodice Piece x3
Total Crafting Time: 1 day 6 hrs 9 mins
Step 7: Hieroglyphics Help
Take a clearer photo of the hieroclyphics in scribed on your Gothic Sewing Machine by clicking on it
Send photo to Jenna using a computer
Craft Velvet x5
Total Crafting Time: 15 mins
Step 8: Curses! Foiled Again
Destroy the evidence that the ghost photos were faked using your computer
Hide Hieroglyphic Book suing a bookshelf in your apartment
Craft Bodice Piece x3
Total Crafting Time: 1 day 6 hrs 9 mins
Step 9: Scarily Close
Consult reference illustrations at a bookshelf to help you finish your costume
Hope that this works while sitting on a couch
Craft Capes x2
Total Crafting Time: 1 day 4 hrs 58 mins
Step 10: The Apartment Of Terror
Grab finished costume from your Gothic Sewing Machine
Lie in wait using a bed in your apartment
Total Mission Crafting Time: 4 days 4 hrs 46 mins
The reward for completing the The Cursed Crafter mission on time is the Cleopatra Costume.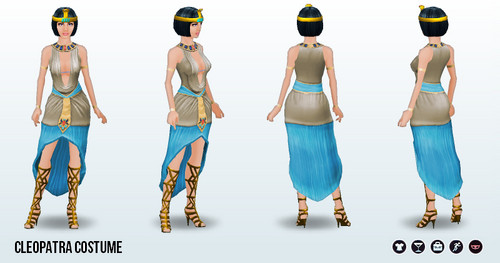 Bonus Prize
Edit
While crafting a Bodice Piece, there is a chance of receiving the Cleopatra Hair.
Ad blocker interference detected!
Wikia is a free-to-use site that makes money from advertising. We have a modified experience for viewers using ad blockers

Wikia is not accessible if you've made further modifications. Remove the custom ad blocker rule(s) and the page will load as expected.