The Tropical Party Gifting Spree event was a gifting mission held during February of 2015, starting on the 13th of February and was the 2nd gifting mission of the year. Players were to collect 10 different items over the span of 10 days. The reward for completing this event is the Tropical Party Bundle.
On Tropic
- Make Popcorn using a microwave
- Turn Off Wireless using a computer to help shield yourself from spoilers online
- marathon Season One of the show Jenna recommended using a television
Warming Up
- Have the Wardrobe placed in your apartment
Lei On The Gifts
- Collect all the gifts using your wardrobe to complete the Hawaiian Sarong and Haku Headband
Day 1


13 February

Day 2


14 February

Day 3


15 February

Day 4


16 February

Day 5


17 February

Hibiscus
x6

Palm Tree
x8

Pink Lei
x10

Luau
x7

Volcano
x5
Day 6


18 February

Day 7


19 February

Day 8


20 February

Day 9


21 February

Day 10


22 February

Boogie Board
x8

Outrigger
x6

Lehua
x9

Coconut Drink
x7

Ukulele
x6
The reward for completing the Tropical Party Gifting Spree mission is the Hawaiian Sarong and the Haku Headband.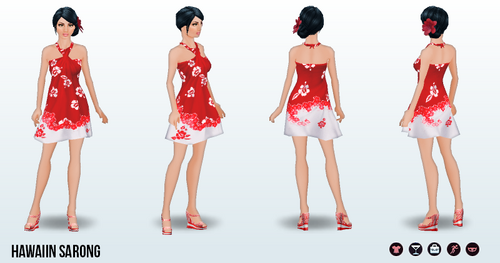 Ad blocker interference detected!
Wikia is a free-to-use site that makes money from advertising. We have a modified experience for viewers using ad blockers

Wikia is not accessible if you've made further modifications. Remove the custom ad blocker rule(s) and the page will load as expected.