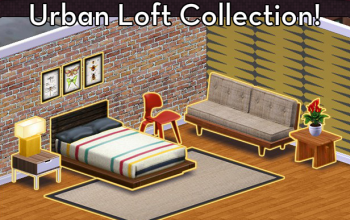 The
Urban Loft Decor Collection
is a Decor Collection that ran in February of 2014. It consisted of seven decor items which you can buy in decor tab.
The complete collection as previously deal costs 99 Gold.
Buying the items separately costs 87 Gold, 3,000 Glam and 3,600 Coins.
Collection
Edit
Decor
Price

Urban Loft Bed

255 Points
Rest: 4 stars

46 Gold

Loft Sofa

188 Points
Rest: 3 stars

26 Gold

Bent Plywood Chair

139 Points
Rest: 3 stars

15 Gold

Loft Lamp

45 Points

1,400 Coins

Loft End Table

62 Points

2,200 Coins

Woven Rug

128 Points

1,200 Glam

Urban Rustic Table

140 Points
Rest: 3 stars

1,800 Glam
Ad blocker interference detected!
Wikia is a free-to-use site that makes money from advertising. We have a modified experience for viewers using ad blockers

Wikia is not accessible if you've made further modifications. Remove the custom ad blocker rule(s) and the page will load as expected.