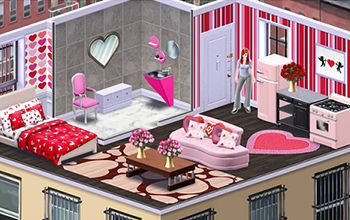 The Valentine's Day Decor Collection is a Decor Collection that ran in January and through to February of 2014, also ran in February of 2013. It consisted of twelve decor items matching the Valentines Day Theme which you can buy in decor tab. The complete collection as previously deal costs 99 Gold.
This collection coincided with the clothing in the Valentine's Day Collection. This collection, along with the clothing collection, are recycled from the previous year and were available in winter of 2013.
Collection
Edit
Decor
Price

Pink Roses

68 Points

6 Gold

Red Roses

68 Points

6 Gold

Valentine Rug

195 Points

18 Gold

Cupid Heart Art

78 Points

2,900 Coins

Pink Retro Fridge

87 Points
Health + Safety Sense: 2 stars

3,050 Glam

Pink Retro Oven

94 Points
Cooking: 2 stars

3,125 Glam

Pink Heart Rug

135 Points

1,325 Glams

Hot Pink Sink

262 Points
Hygiene + Charisma: 3 stars

25 Gold

Valentine Bed

368
Rest: 3 stars

30 Gold

Valentine Loveseat

465
Rest: 4 stars

39 Gold

Heart Mirror

175 Points
Hygiene + Charisma: 2 stars

6,575 Coins

Valentine Armchair

204
Rest: 3 stars

8,200 Coins
Ad blocker interference detected!
Wikia is a free-to-use site that makes money from advertising. We have a modified experience for viewers using ad blockers

Wikia is not accessible if you've made further modifications. Remove the custom ad blocker rule(s) and the page will load as expected.