The Warm Retreat Gifting Spree event was a gifting mission held during November of 2015, starting on the 10th of November and was the 11th gifting mission of the year. Players were to collect 9 different items over the span of 9 days. The reward for completing this event is the Warm Retreat Bath.
Cold Snap
- Use a computer to Look up the Weather Forecast online
- Read Meteorology Magazine at magazine rack
- Call Jenna using a phone to answer her question in an informed manner

Boxed In
- Place the Warm Retreat Bath in your apartment
Warming Up
- Collect all the gifts to Assemble your Bathtub by clicking the bathtub while it's under construction. (Some gifts are the same as in Winter Blues Gifting Spree, Food Coma Gifting Spree and Home Spa Gifting Spree)
Day 1


10 November

Day 2


11 November

Day 3


12 November

Day 4


13 November

Day 5


14 November

Scented Candles
x8

Fireplace
x7

Hot Cocoa
x5

Bath Sponge
x8

Good Book
x7
Day 6


15 November

Day 7


16 November

Day 8


17 November

Day 9


18 November

Thankfulness
x5

Colorful Blanket
x6

Bubble Bath
x7

Bath Pillow
x9
The reward for completing the Warm Retreat Gifting Spree mission is the Warm Retreat Bath (500 decor style; Creativity + Hygiene: 3 stars).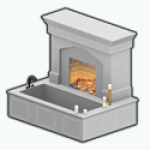 Ad blocker interference detected!
Wikia is a free-to-use site that makes money from advertising. We have a modified experience for viewers using ad blockers

Wikia is not accessible if you've made further modifications. Remove the custom ad blocker rule(s) and the page will load as expected.