Age

Unknown

Occupation

Barista at The Grounds, actress, stand-up comedian

Residence

New York City

Family

Father (never seen)

Quests & Storylines

Hosted

Spooky Cafe 2013

Featured

N/A
Zoey is the Grounds barista and is always at the Cafe when you need her. Occasionally, she will host quests, including crafting quests or one of the Coffee Shop Missions. Zoey played a main role in Halloween 2013's travel journal quest, the Spooky Cafe 2013, where Zoey was striving to set up the Grounds to look spooky for Halloween.
Appearance
Edit
Zoey's barista dress ex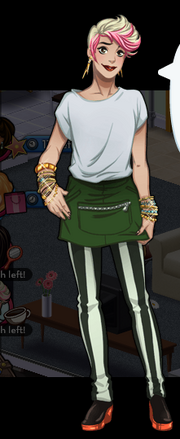 ists in the shop
Charade
for "35 Gold" so buy it and enjoy the look :)
Personality
Edit
Zoey comes off as outgoing and friendly. She has an interest in sci-fi and other "geeky" things, as seen in the Geek Week mission. She is also a tomboy. Zoey can be extremely encouraging at times as well. She plays improv comedy, as seen in the Improv Comedy mission. The Mother's Day questline shows that she was raised only by her father, but there is no word on what happened to her mother. The Canada Day questline reveals that she is of Canadian heritage - her grandmother lives in Canada.
A sort-of running gag is that while Zoey is a very good barista, when she tries creating new coffee flavors these always end up in disaster.